Click Here for Faculty Profile
Kurien Joseph is a former business executive, with over three decades of experience in management and teaching, in international business and communication, in the public and private sectors, in India and overseas. He was earlier an Associate Fellow of the Australian Institute of Management.
Graduating in Architecture from the Indian Institute of Technology, Kharagpur, in 1970, he did post-graduate studies in Mass Communication at the Xavier Institute of Communication Arts, Mumbai, in 1972, and in Marketing Management at the Jamnalal Bajaj Institute of Management Studies, Mumbai, in 1978. In 1976, he was a member of the 3-man team that won the National Competition for Young Managers (All India Management Association).
He has lived and worked in Delhi,Mumbai,Banglore and Sydney (Australia). In addition he has travelled on work to nearly 30 countries. During the period 1980-1983, while posted in Sydney, as STC's Regional Manager for Australia, New Zealand and Fiji, he participated in Indo-Australian Joint Trade Consultations. In 1996 he was on an Indo-American Chamber of Commerce delegation to the State of Arizona in the USA.

After 19 years of hands-on international business experience in the public sector (STC), he spent another 6 years in the corporate private sector, before starting his own independent consultancy services for Indian and foreign organizations. His consultancy, Komark draws upon the talents of a pool of experts with vast experience and superb communication and teaching skills in the areas of Communication and Business Management.

Side by side, however, he has taught MBA-level courses (Communication Skills, Marketing, International Business) in India and the UK, and on several occasions was on Admissions Committees of the Indian Institute of Foreign Trade, New Delhi, and Fortune Institute of International Business. In addition, he has taught both postgraduate and undergraduate students at the prestigious Pearl Academy of Fashion, New Delhi.

At one time he had been actively involved with theatre, having been a member of Delhi's dramatic groups Yatrik and Theatre Action Group (TAG). Indeed, in August 2000 he returned to active theatre in the midst of his heavy professional commitments. He brings to his work a unique blend of hard-core management experience, academic work and theatre craft.



Kurien Joseph has won considerable acclaim for his skills as a Communications trainer. He has trained
Diplomats (IFS Officers)
Corporate executives at all levels
IT Engineers
MBA students
Professional undergraduate students and
Ph. D. Students
His training areas range from public speaking to drama to remedial English. He has conducted programmes in India and in the UK. In addition, he runs his own courses in public speaking and academic and business writing.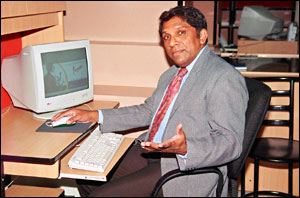 | | |
| --- | --- |
| | He used to contribute a regular column to the fortnightly (later monthly) journal Export Import Trade Flash. For about 10 years he edited TECH MONITOR, a bi-monthly journal on Technology Transfer published by the UN agency, Asian and Pacific Centre for Transfer of Technology, New Delhi.. |