University of St Andrews
History
The University of St Andrews is a very special, and rather unusual, university – a blend of ancient and modern, and a place of contrasts. It is relatively small and removed from the metropolitan centres, but has a reputation for scholarship, teaching and research that consistently places it as the top Scottish university and easily in the UK top ten. It is remarkably cosmopolitan, with students coming from all parts of the UK and from some seventy-five other countries.

Founded in 1413, St Andrews is the oldest Scottish university, benefiting still from its traditions and mediaeval origins. Yet facilities for cutting-edge science, medicine, business education, psychology, astrophysics, molecular biology or software engineering are among the best in the world. In divinity, arts and the humanities, St Andrews continue to blaze a trail of academic excellence. Given its world-class academic reputation, there is no wonder the Sunday Times recently voted "UK University of the Year" it. In terms of its teaching quality and research output, it continues to be widely acknowledged by its peers, the government and internationally as being Scotland's "first university".
The community
Perhaps the most distinguishing feature of the University, however, is its spirit of community. Students and staff live and study in an environment that is unique. There is a real feeling of involvement and a sense of loyalty and affection that lasts throughout and well beyond the years a student spends in the University.
Academic
The community of over 7,000 students studies in one of the University's four faculties: Arts, Science, Medicine or Divinity. A modular system ensures that students studying in the faculties of Arts, Science or Divinity benefit from flexible degree structures. St Andrews also has an exceptionally high degree completion rate due to the excellent teaching it provides and a staff-student ratio currently averaging 1:10.

Entry to these challenging undergraduate Masters degrees depends on a candidate's academic background. Students pursuing a degree in medicine will graduate with a BSc Medical Science degree leading to clinical qualifications taken at the University of Manchester, where they will be entitled to admission for years four through six.
Alumni
St Andrews has over 45,000 alumni working at the highest levels in public and private companies and organisations. A degree from St Andrews is a passport to a wide range of interesting and rewarding careers in whichever field one decides to specialise. Some of the largest and most influential companies in the world come to St Andrews to recruit students to their graduate and management training programmes. In today's competitive global employment market, the experience of an international education is highly prized.
Recreation and Sport
The University has collections of art, antiquities, scientific specimens and instruments etc, many of which are kept for teaching and research purposes. In addition to this, student life is enriched by many sporting facilities, including grounds for cricket, soccer and rugby at the University's own Sports Centre. In total there are over fifty sports available at Scotland's First University. A modern Student Association building also provides a wide range of welfare and extra-curricular activities. These include social and academic related student societies and the world's oldest debating society, in addition to flourishing music and drama.

If you choose to join us in this unique scholarly community, the St Andrews experience will provide you with one of the most enjoyable and formative periods of your life. This is the University where world-class minds are made.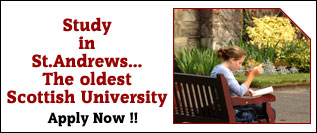 Applying for transfer from your present university to University of St. Andrews
Click below to Download the Transfer Application Form in PDF format.
Andrews Transfer Application Form
To download Acrobat Reader click

One of its great strengths is its residential system and the variety and range of its eleven halls of residence. Each residence offers distinctive yet comfortable sleeping arrangements, mostly in single rooms with communal reading, dining and recreational facilities. All new entrants to the University are provided with a place in University accommodation.
At undergraduate level the following four-year programmes are offered:
Master of Arts (MA)
Master of Theology (MTheol)
For historical reasons, the first degree given is called not B.A. but M.A; and the next degree is called not M.A. but M.Litt.)
Bachelor of Divinity (BD)
This is a three year Honors degree for Graduates who intend to enter the Religious Ministry
Bachelor of Science (BSc) plus four/five year advanced undergraduate programmes in the sciences
Master of Chemistry (MChem)
Master of Mathematics (MMath)
Master of Physics (MPhys)
At postgraduate level St Andrews offers a range of internationally recognised qualifications, from a Graduate Diploma,
Master of Letters (MLitt)
Master of Science (MSc)
Master of Philosophy (MPhil)
Master of Research (M Res)
to a Doctor of Philosophy (PhD) or Doctor of Languages (DLang) in a broad range of subjects, plus an MD degree in the Faculty of Medicine.

Click Here to for more details on Postgraduate Courses in St.Andrews.